Richard Edward Toensing (1940-2014) was an esteemed composer, a respected teacher, and an extraordinary choral conductor. Explore this site in honor of his music and continuing legacy.
---
News & Reviews
The 2019-20 American Prize Ernst Bacon Memorial Award for the Performance of American Music by a College/University Ensemble was awarded to Richard Toensing's Whitman Tropes, performed by New England Conservatory Symphony Winds (Boston, MA), conducted by William B. Drury.  |  more info
---

Richard Toensing manuscripts and papers
The Richard Toensing manuscripts and papers comprise scores and professional materials encompassing Toensing's career as a composer and teacher. The centerpiece of the collection is 21 boxes of scores spanning his entire career as a composer, from his 1964 Doxologies I (for Wind, Brass, and Percussion) to his final work Serene and Heavenly Bells (2014). Many of the scores are supplemented with data discs that include the Finale notation software files as well as PDF scans of Toensing's work. Also included in the collection are concert programs and professional papers, including programs for numerous performances from the University of Colorado Boulder and other festivals around the world, correspondence, awards, biographical information, concert reviews, photographs, audio recordings, and other papers that document Toensing's time as professor at CU Boulder.
---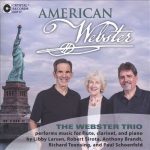 Toensing's "Children of Light" on American Webster CD receives Gramophone review:
"The most ambitious work is Richard Toensing's Children of Light, a spiritual journey written for The Websters, set in five movements of differing mood and pace, drawing on the theology, language and music of the Orthodox Church, whose final version is radiant, impressionist haze."
Note: Scores for "Children of Light," for flute, clarinet, and piano, are available for purchase. Contact janetbraccio@comcast.net.
---
A Meditation by Richard Toensing
I believe that, after time stops, all music written in the spirit of praise to God (and the inspiration and ennoblement of man) will be performed again—perfectly—in Heaven, as part of the eternal round of God's praise.  (It may be that all other music will be performed Somewhere Else; upon that I do not care to dwell). Thus, I wish my music to at once foreshadow that heavenly performance, and also to bring, as best as I am able, the music of Heaven down to Earth. May it truly, and ever, be so.
~Richard Toensing, found posthumously in a notebook, written circa 1980s
---
In Memoriam
Faculty Tuesday: The Music of Richard Toensing
Tuesday, March 31, 2015, 7:30 PM
Grusin Hall, CU College of Music, Boulder
For the full Memorial Concert program, including audio, click here.
New Music Box (a publication from New Music USA)
Richard Toensing (1940-2014)—"The Oak Doesn't Grow as Fast as the Squash"
By Kristin Kuster (composer and former student), August 5, 2014
"Dick Toensing gave us some of the most gorgeous music on this earth. Equally important, the distinguishedness of the sheer volume of wisdom he imparted to his students is immeasurable. He was an ever-optimist, an ever-realist, and never a downer. Yes, he could see through the bull-hooey quicker than most and didn't hesitate to politely call it out. His career was like the slow-growing oak, and as an artist, teacher, and human he expressed himself clearly, gently, with respect and compassion."
Colorado Public Radio – Remembering Colorado composer Richard Toensing, 1940-2014
Audio: Composer Richard Toensing on hearing his own music performed
Remembering Richard Toensing
By Greg Simon, composer and former student
"Listening to a Toensing piece might be akin to watching the embers after a fire: a gentle sense of warmth pervades everything, but it's never stagnant — the glow flickers and dances in languid, unpredictable ways. A perfect starting point is his Kontakion on the Nativity of Christ for a cappella choir, a 'choral concerto' born from Dick's Orthodox Christian faith."
Denver church gives posthumous premiere of Richard Toensing piece
Colorado Public Radio, 8/13/14